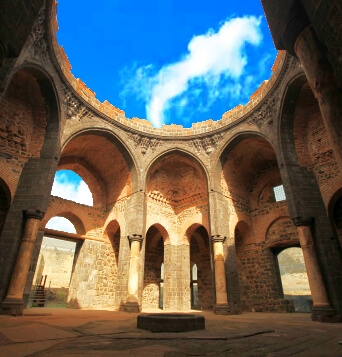 Diyarbakır, stands out with its legendary history and cultural heritage, well known for its watermelons and castle. Located in Southeast Anatolia province. Neighboring cities; east Batman, northeast Mus, Bingol and Elazig in the north, West Malatya and Adıyaman, southern Sanliurfa and Mardin provinces. 37 ° 30′ and 38 ° 43′ north latitude and 40 ° 37 'and 41 ° 20′ is located between the east longitude. Traffic number is 21.
Diyarbakir is ready to be transformed into an attraction center in means of both cultural and belief tourism as an alternative to tourism that has spread to specific parts of Turkey.The city has the characteristics of being a window opening straight from East to Turkey's tourism. The city, where first residence of mankind was settled, invention of writing was found, laws that set society order, preliminary settlements were set, civilizations that provided to world civilization development such as Sumerian, Babylon, Persian, Assyrian, and Hurry, has a rich cultural heritage.
Diyarbakir, which is in Middle East of Anatolian Region; is counted as one of the most important cities not only in Turkey but in all over the world with its Castle, Citadel, various monumental structures that represents historical development of the city with all aspects, traditional dwelling fabric, and documental values that reflects today's cultural identity that were left behind by great civilization who had dominations over here. It is an open air museum with the historical potential of the city. The city has witnessed the cradle of many civilizations and carries traces of all civilizations.
Attraction Points
---
Nebii Mosque – 0 km
Hasan Pasa Hani – 0.1 km
Cahit Sitka Taranci House Cultural Museum- 0.2 km
Hasan Pasa Hani – 0.3 km
Great Mosque of Diyarbakir – 0.3 km
Behram Pasa Mosque – 0.4 km
Nur Burcu – 0.4 km
Safa Mosque – 0.4 km
Ziya Gokalp House Museum – 0.4 km
Suluklu Hani – 0.5 km
Diyarbakır Citadel – 0.5 km
Seyhan Mutahhar Mosque – 0.5 km
Mar Petyun Catholic Church – 0.5 km
Dort Ayakli Minare – 0.5 km
Deliler Hani – 0.5 km
St. Giragos Armenian Church -0.5km
Diyarbakir Art Center – 0.5 km
Diyarbakir Archeology Museum -0.5km
Se'man Kosku – 0.5 km
Airport for SV Business Hotel Diyarbakıris Diyarbakir (DIY) – 3.3 km