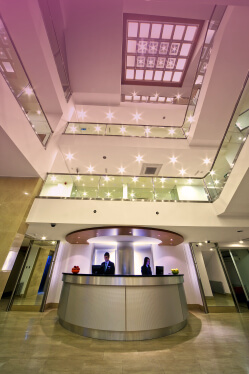 SV Business Hotel is a facility that does not compromise on service quality. Our hotel offers wide variety of alternatices in accomodation for tourism, travel, business meetings, dinner meetings, events and spa.
Our hotel is the first choice of local and international accommodation in Diyarbakir. This city known as legendary with a historical heritage and rich culture. Innovation and leadership has adopted the basic principle of the SV Business Hotel. Our hotel has many different architectural features. Turkish and international cuisine are served at the restaurant. Exercise areas equipped with modern fitness equipment, sauna are equipped to answer all your needs.
Our hotel also has meeting rooms in 2 different sizes for 100 people with high-tech equipment to respond to every need. SV Business is the best equipped hotel for the area.
Really good impressions, friendly and cooperative staff, nice food, convenient location to wander about and get acquainted with local places of interest.
The hotel is well located in the centre of the old town. The staff are friendly and very helpful (and even gave us a small gift at check out). The room and bathroom were clean, well appointed and modern (and look just like the photos on the hotel website).
All in all a friendly, well priced hotel in a good location. Everything works and breakfast is sufficient. A reliable kind of place.
Rooms are enough for me. not small not big. decoration is very good. breakfast is also good and enough.and all workers are very polite. i advise to everybody to stay there
This is a decent 4 star business hotel. Breakfast is 4-star compatible. Staff are very polite and helpful, and they do speak English.
My husband and I along with our three young children stayed here. I found the staff to be very helpful, the rooms very clean and the location great